People are writing the strangest things but they are sometimes very hysterical. Do you want to get a good picture of what we're talking about here? Check these out.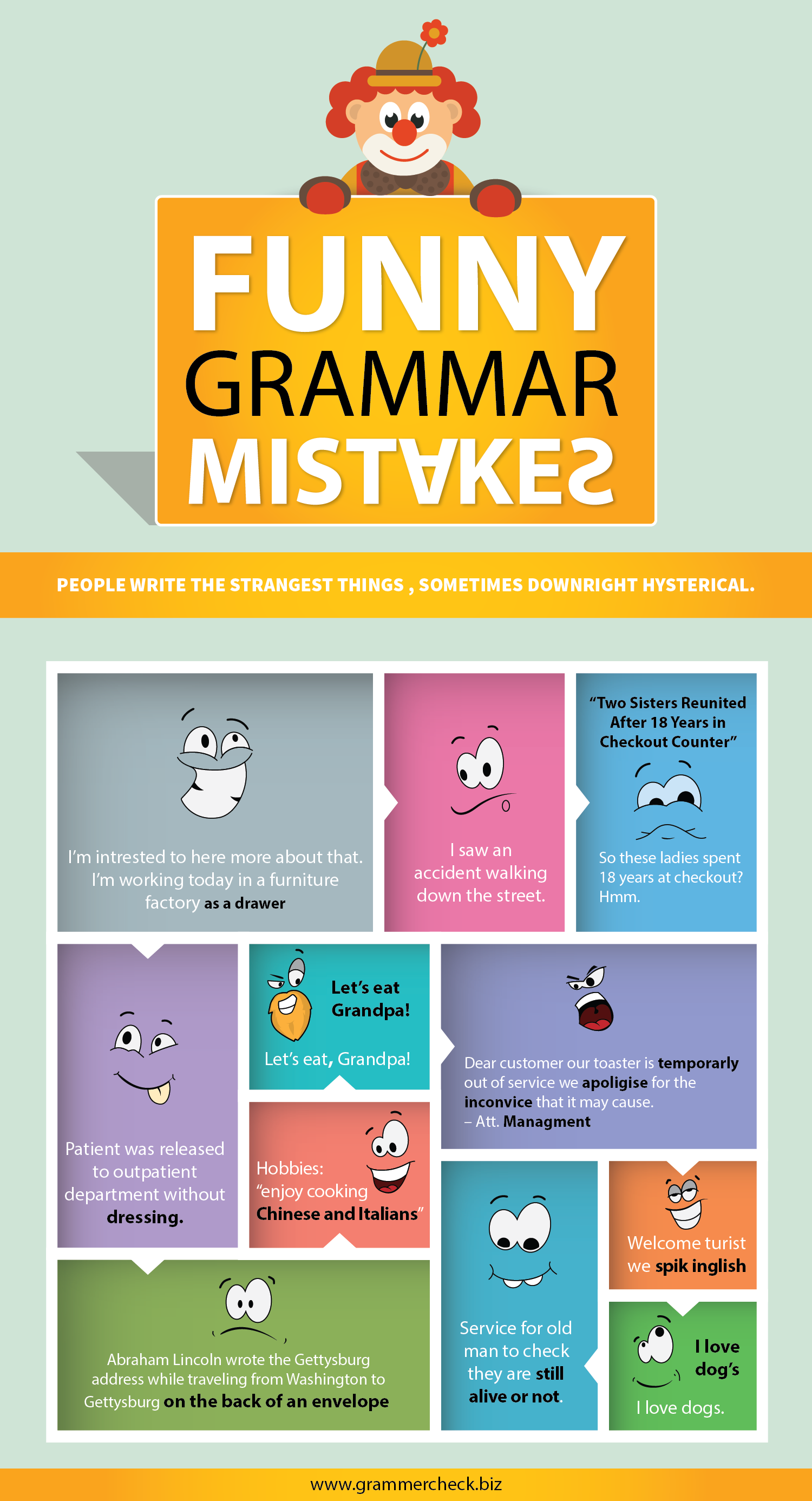 Funny Grammar Mistakes That People Make
"I'm interested in here more about that. I'm working today in a furniture factory as a drawer.
I saw an accident walking down the street.
Two sisters reunited after 18 years in the checkout counter. [So these ladies spent 18 years at checkout? Hmm.]
A patient was released to outpatient department without dressing.
Let's eat grandpa! Let's eat, Grandpa!
Dear customer our toaster is temporarily out of service we apologize for the inconvenience that it may cause. – Att Management
Hobbies: Enjoy cooking Chinese and Italians
Service for old man to check they are still alive or not
I love dog's. I love dogs.
Abraham Lincoln wrote the Gettysburg address while traveling from Washington to Gettysburg on the back of an envelope.
Ridiculous and funny, aren't they? Well, these are some of the most common mistakes that people have committed in their writing. As you can see, grammar really matters because a change or misuse of one word or punctuation can lead to another meaning, such as "Let's eat, grandpa." AND "Let's eat, grandpa!"
What Are the Ways to Check Grammar?
To avoid the above mistakes, practice your grammar, especially in writing, consistently! In the process, you can find out your strengths and weaknesses, which will help you in improving your English skills.
Additionally, you can use the best grammer checker to detect your errors in a flash. It checks your paper automatically without you having a hard time or spending too much of it in checking your work. Aside from it checking your work in an instant, it also returns results with suggestions for improvement, including on word choice, punctuation and style.
In the process, you don't only check grammar mistakes but you also learn and improve your English, too. In the end, you become an expert in the language, especially in terms of speaking and writing.
Practice English and avoid these funny grammar mistakes today!